Our Team
Craig Pulley, PA-C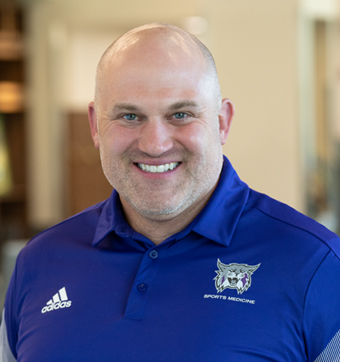 Physician Assistant
Craig Pulley is an orthopedic physician assistant certified by the National Commission on Certification of Physician Assistants (NCCPA). As a former high school multi-sport athlete, he earned his passion for orthopedic care from having had two knee surgeries. The injuries ended his athletic pursuits and became a catalyst for his career pathway. Craig studied at Brigham Young University, earning a Bachelor of Science degree in exercise science. He earned a Master of Health Sciences degree from Drexel University in Philadelphia, one of the first programs founded in the United States, where he completed the Physician Assistant Studies program in 2004.
During his surgical rotations, Craig trained with Dr. Jeffrey Harrison in the Intermountain McKay-Dee Sports Medicine Center in Ogden, Utah. He saw firsthand how the powerful combination of Dr. Harrison's specialized sports medicine orthopedic surgical expertise and comprehensive team approach to patient care led to successful patient outcomes. Craig became an essential part of the care team with his natural ability to connect with the patient. He has worked side-by-side with Dr. Harrison as the first assistant on all surgical procedures and provided best-in-class clinical patient care.
As a devoted practitioner of orthopedic sports medicine, Craig finds joy in his work. He has been known for his extraordinary patient education and care since he began practicing in 2004. He is committed to ensuring patients are informed with the understanding of post-surgical care to come back better and stronger. The most satisfying part of his work is seeing people return to doing what they love after an injury.
Craig's approach to pain management
Craig is a committed leader in the combat against our societal opioid epidemic. He has helped the clinic develop a multi-faceted approach to pain management that optimizes a patient's post-surgical care while prudently prescribing opioids to protect patients and their loved ones from the risks associated with these drugs.
Craig's personal life
Like his role in the clinic, Craig lives a life of service, focusing first on what he can do for his family. He has two daughters with his high school sweetheart and wife of 24 years. Together they show up as each other's biggest fans and support team. Joy comes from engaging in activities that create a better home, neighborhood, school, community, and world. If you were to look for the Pulley family, you might find them exploring a trail on the Ogden East Bench, doing something to support local schools, playing a game of pickleball, sneaking away for a weekend in the mountains, or exploring a national park.
---
Vanessa Farris, ATC
Athletic Trainer Certified
Vanessa Farris, a BOC-certified and State of Utah Licensed Athletic Trainer, graduated from Weber State University with a double major in Athletic Training and Athletic Therapy in 2010. Vanessa has been employed with Intermountain Health since 2013 and has worked for Dr. Harrison since 2018. She attended Roy High School where she was a multi-sport athlete and awarded Most Athletic Female.
Vanessa provides clinical services as well as assisting in surgical procedures with Dr. Harrison. She also contributes athletic training services for local high schools and events, including the Ogden Marathon, Ogden Pioneer Days Rodeo, Snowbasin Ski Resort and is also employed with Weber State University as a staff Athletic Trainer.
In her personal life, Vanessa enjoys spending time hiking, mountain biking, skiing, attending sporting events, and travelling.
---
Marissa Brunner, ATC
Athletic Trainer Certified
My name is Marissa M. Brunner, ATC; I am married and have one adorable son. I received my Master's of Science in Athletic Training from Weber State University in 2022. Throughout my education, I competed as a collegiate athlete in the javelin and hammer. I started working with Dr. Harrison upon graduation as a certified Athletic Trainer in clinic and the operating room. I have loved my experience working with Dr. Harrison and his team; they have greatly increased my knowledge and skills of injury management and recovery. Additionally, we work so well as a team and find great enjoyment in helping patients.